During the research of web hosting services, you believably came across various WordPress hosting companies. All of these web hosting services can be either managed or unmanaged.
Most of the hosting services are unmanaged, which means once you purchased space on a server, they only provide some tools to manage. They do not provide overall management of the website, it's up to you.
Now let's see what is managed WordPress hosting? what are pro's and con's, and how much you need to pay for that?
What is Managed WordPress Hosting?
As the name suggests manage WordPress hosting, it is a hosting service where you don't have to manage anything, your hosting provider will 'manages' website and server for you.
This means they will manage all key tasks like daily backup your data, updating your website, speed, security, website uptime, etc.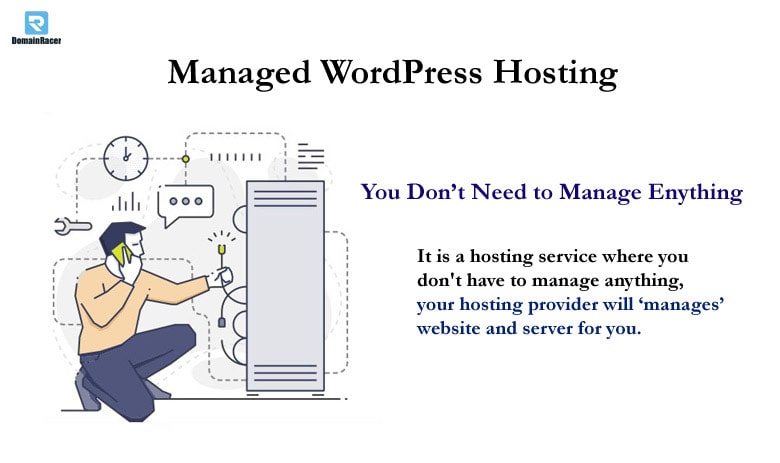 The managed WordPress hosting gives hassle-free services, so you can completely focus on your business, no need to worry about website maintenance.
One of the best services with managed WordPress hosting is support. In the best-managed WordPress hosting services, the support is provided by experts with lots of experience.
Pros and Cons of Managed WordPress Hosting
Managed WordPress hosting sounds good, but it's not for everyone. Before you are going to purchase managed WordPress hosting you should take a look at its pros and cons to make any decision.
Advantages of Managed WordPress Hosting:
1. Automatically managed update
WordPress managed hosting has the feature of automatic updates. So, you don't have to worry about updates, it is done automatically.
2. Daily Backup
In the managed WordPress hosting you also no need to worry about its daily backup. The daily backup system is faster, more efficient, and reliable.
The regular backups make your website easier to restore previously lost data.
3. High Security
The best managed WordPress hosting provides high security to your website. They provide a tight layer of security that scans for malware attacks and block all kinds of hacking.
4. Fast performance
The server of managed WordPress hosting is specially configured for WordPress websites. So it gives high performance even if your website gets a lot of traffic.
5. Better caching
There are various cache-related plugins are available in WordPress. With this caching plugin, your server will give better performance.
Using this cache plugins your website will load speedily and it needs fewer server resources, which helps to save the memory.
6. Expert support
The staff with best managed WordPress hosting is deeply expert with knowledge. They are available 24/7 to solve problems and much more.
7. No downtime
Managed WordPress hosting Provides high uptime. No matter how much traffic your website has, it never goes down.
Disadvantages of Managed WordPress Hosting
The advantages of managed WordPress hosting sound pretty good, but what about its disadvantages?
1. High Price 
When we compared managed WordPress hosting with shared hosting, then the price of managed WordPress hosting is comparatively high.
The basic plan of managed WordPress hosting starts at $29/mo.but with the high costing, you also getting quality features.
2. Limited Access
The server of managed WordPress hosting is specialized for WordPress, so you can run only WordPress based websites.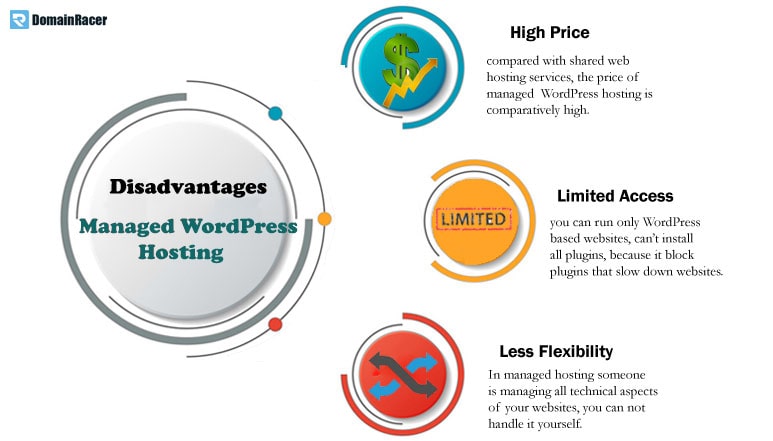 Also, you can not install all plugins, because managed WordPress hosting block plugins that slow down your websites.
3. Less flexibility
In managed hosting someone is managing all technical aspects of your websites, you can not handle it yourself. So they offer less flexibility compared to unmanaged web hosting.
You have seen the pros and cons of managed WordPress hosting, now its time to decide you really need this?
When You Need Managed WordPress Hosting?
If you are a beginner to starting a blog, then there is no need for managed WordPress hosting. Initially, you should start with a regular WordPress hosting plan which will be affordable for you.
For that hosting, we recommend DomainRacer which is affordable and best WordPress hosting provider
If you have your business with high volume website traffic, then it is recommended for you to get managed WordPress hosting.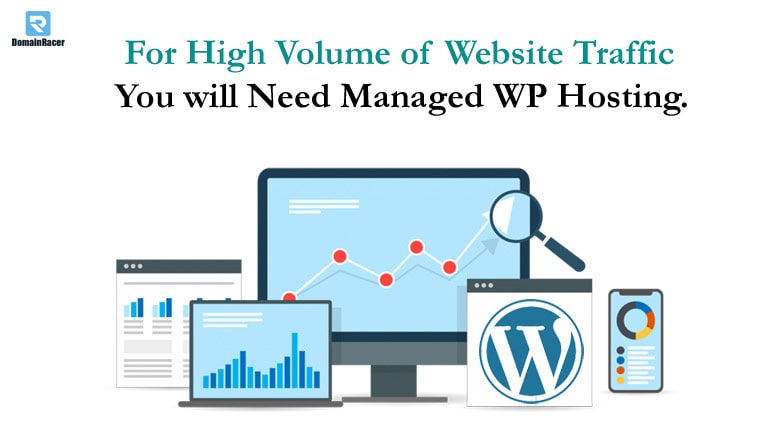 This will give you a more satisfactory result. because it provides all hassle-free services, you no need to manage anything.
Top managed WordPress hosting provider:
I think you have got your answer, now its time to look for a managed WordPress hosting provider.
For the WordPress hosting I will recommend you to go with DomainRacer, they provide the best services with affordable costing.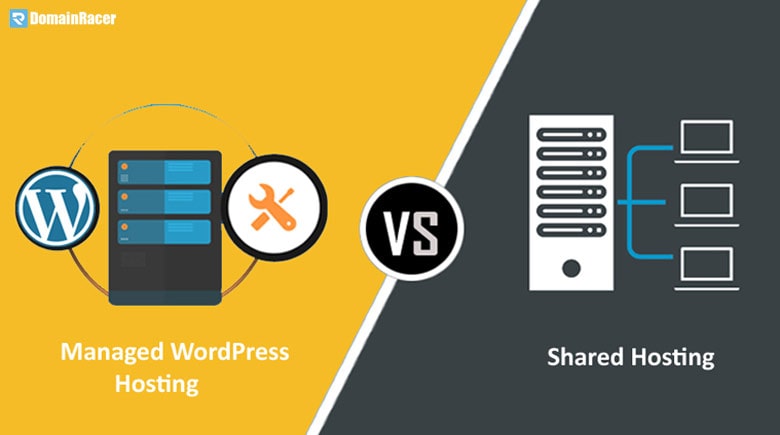 If you have your website which is not in WordPress and you are looking for managed hosting services then you should think about shared hosting services.
If you are looking for managed hosting services then you can go through this article.
What Is Managed Hosting? No More Mistakes!
Mistakes to Avoid When Choosing a Managed WordPress Hosting –
When you are going to buy web hosting services for your website you should avoid below mistakes:
Don't choose free hosting service – Some web hosting providers offer free services but its not actually free. They providers very limited features and then demand more costing.
Check Security – Before going to purchase a service, you need to check how much security they are providing to keep secure your website.
Technical Support – Technical support is the main thing while purchasing managed web hosting services because everything is managed and you no need to do anything.
So if you have any query then you need to contact a support team, and that's why it should be strong.
The Bottom Line
This article concludes that yes, you need to managed WordPress hosting if you have a high volume traffic website. In this hosting, you no need to manage anything, it's hassle-free hosting. So you can go with managed WordPress hosting.