If you are looking to start a new website then it's common to have some questions. The questions are like what is web hosting, how it works, which type of hosting is best for the website? etc. 
For that, you need to know about different types of web hosting services so that you can decide which hosting is better for the website.
Choosing the wrong web hosting services can cause trouble for the website and make your website down.
Once you understand various types of web hosting services, then it's easy to decide which one is best to host the website, and you can also find out the best web hosting provider.
In this post, we will see what web hosting is, what are the main types of hosting and their differences, and what type of hosting you need to host your website?
What is Web Hosting?
Web hosting is a service that allows you to keep your website or web page on the Internet.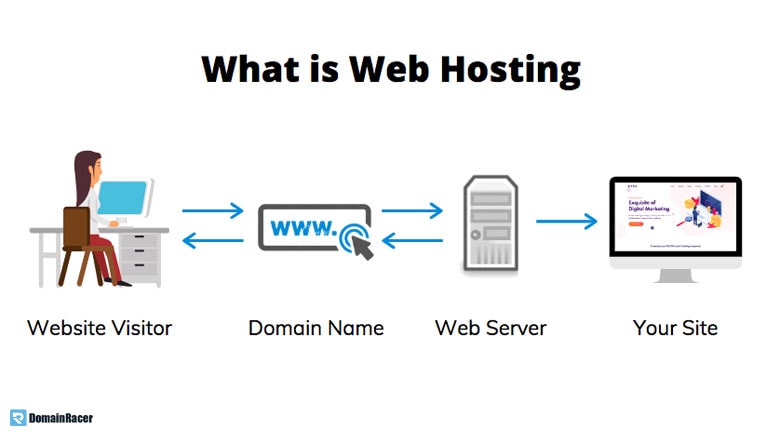 When users want to see your website then there is a need to type the address of your domain name in a web browser.
Your websites are stored and hosted on a special device or computer called servers and every component of the website stored at servers such as files, videos, images – everything.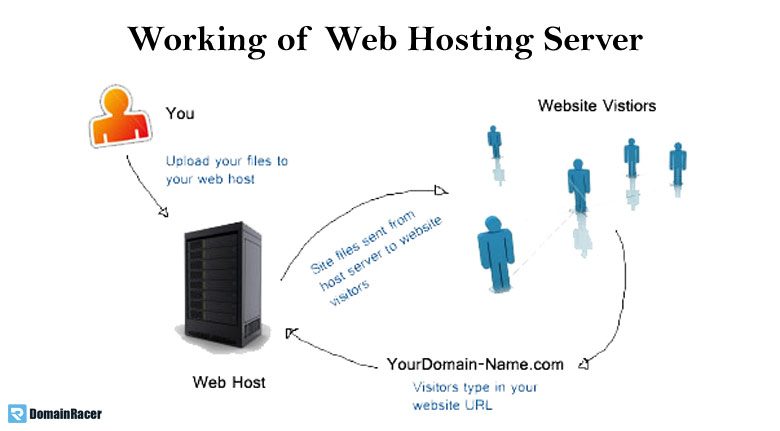 These servers are physically located in data centers and managed by web hosting providers.
Types of Web Hosting
All servers are not the same and used for a different purpose. Below are the most common types of web hosting that you need for your websites.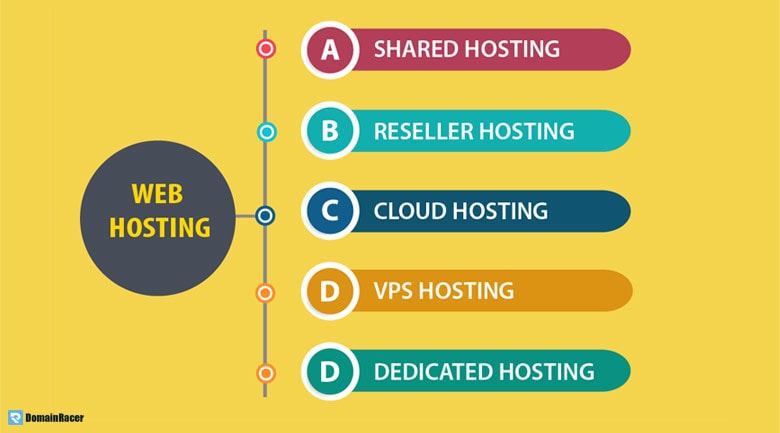 Shared Hosting

WordPress Hosting

Reseller hosting

Cloud hosting

VPS Hosting

Dedicated Hosting
Once you have decided which type of web hosting that you need, then you can look for the best web hosting providers and select hosting plans depending on your needs.
DomainRacer provides all these web hosting services with low cost and amazing features. For any type of service you can go with DomainRacer and get reliable service.
What kind of hosting do I need for my website?
Choosing web hosting services to host your website depends on lots of factors. The type of web hosting server will impact on the performance, scalability, security, and management of your website.
The type of your website you have and the amount of traffic you are getting also impact on choosing web hosting services.
For example – A small business website or personal blog with 5,000 monthly visitors will need different web hosting plans while other websites like an e-commerce site with 250,000 visits per month will need a different plan.
The different web hosting plans are offered at various prices. So it's important to find the services that will be in your budget also.
Below I have explained different web hosting services that will help you to figure out which type of hosting will be the best choice for your website.
What Types of Web Hosting Can I Choose From?
1. Shared Hosting – Cost-effective plan for new and small websites
Shared hosting is a basic type of web hosting service. It is generally the best choice for entry-level and small type of websites.
In the shared hosting services, a single server is used to host multiple websites, and resources are shared with different websites. Also, have a limited amount of resources as defined by their hosting plan.
That is one of the reasons for shared hosting is cheap as compared to other web hosting services.
The sharing server with other websites makes its low performance and it's a drawback for shared hosting.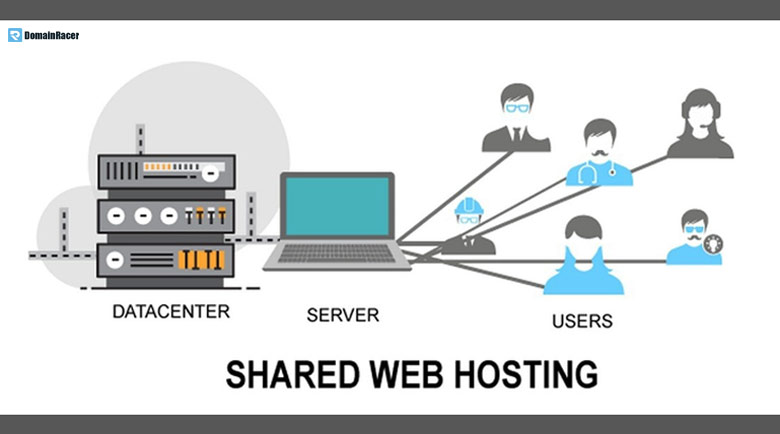 Example: If some websites on the server have high volume traffic, then it will cause performance issues with other websites, at that time you can't do anything. It will impact on low volume websites.
So, shared hosting will be a great option for you if you have a low volume of traffic and want to save money.
Who is Shared Hosting For?
If you have a start-up or smaller website then shared hosting will be a great option for you. It is also good for bloggers and small business websites.
The main advantage of shared hosting is a low-cost service and does not need much technical knowledge to get started.
If your website does not expect more than 10,000 to 20,000 monthly traffic then you can go for shared hosting and save money.
Shared web hosting pros:
No need of technical knowledge
Easy to set up.
Cost-effective web hosting.
Great for small business and start-up websites.Shared web hosting cons:
Share server resources with other websites.
slow loading time with low uptime.
performance issue – no control
2. WordPress Hosting for WordPress (CMS) Websites
As the name suggests WordPress hosting is intended for WordPress websites. In simple words, WordPress hosting is generally used to optimize the WordPress site and it's come with one-click WordPress installation.
It is the most commonly used CMS(Content Management System) and security is a major concern with WordPress. So that added security with WordPress hosting is a great benefit for you.
There are two different types of WordPress hosting services:
Shared WordPress hosting
Managed WordPress hosting
Shared WordPress hosting works the same way as normal shared hosting, but it might be preinstalled.
In managed WordPress hosting you will get some added benefits like server caching, enhanced security, faster loading speeds, etc.
Who is WordPress Hosting For?
WordPress hosting is specially used for the WordPress website, if you are looking to optimize for WordPress site, then you can go with this hosting.
WordPress hosting pros:
Optimized for WordPress.
One-click installations and pre-installed WordPress.
Enhanced website security.
WordPress hosting cons:
Less control.
Updates aren't smooth.
Share resources with other websites.
3. Reseller Hosting – For web developers, agencies and web designers.
If you want to do web hosting business or want to sell web hosting to other websites then you can go for reseller hosting plans.
Reseller hosting is not for everyone. If you are looking to host a website or building a website from scratch then this reseller hosting is not for you.
What is White Label Web Hosting? – No More Mistakes !!
Reseller hosting allows you to buy web hosting from hosting providers and then resell it to your clients. In this plan, you can set your own price to resell hosting.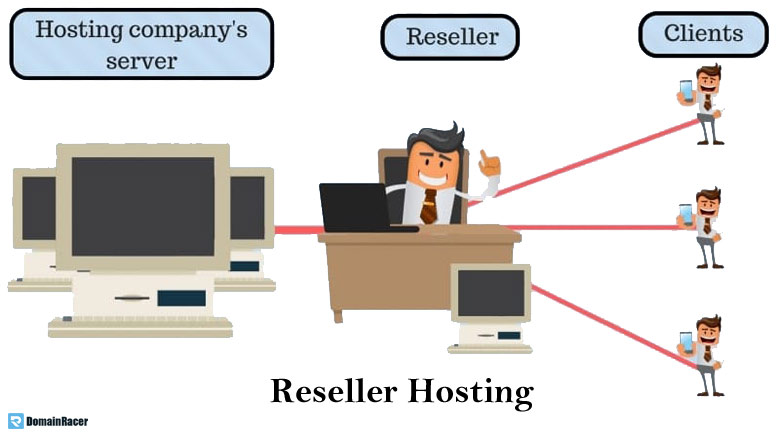 Who is Reseller Hosting For?
These are people who already have clients in this space, so they can just add web hosting to their services that they currently offer.
Most specifically reseller hosting is for web designers, agencies, and web developers.
You should not consider reseller hosting unless you have at least 10 different websites. Otherwise, it will not be worth it for you.
Reseller hosting pros:
You can set your own price.
Can increase existing services.
Reseller hosting cons:
Require lots of customers
Your own responsibility for your business.
4. Cloud Hosting – For a growing business
In cloud hosting a single physical server is divided into multiple virtual servers and it is referred to as a virtual machine.
It is generally used for a quickly growing website where shared hosting is not enough.
Recently, small businesses have begun moving towards cloud hosting to meet their everyday needs.
These servers may be used for web hosting, application development, or remote-accessible desktop work environments, and much more.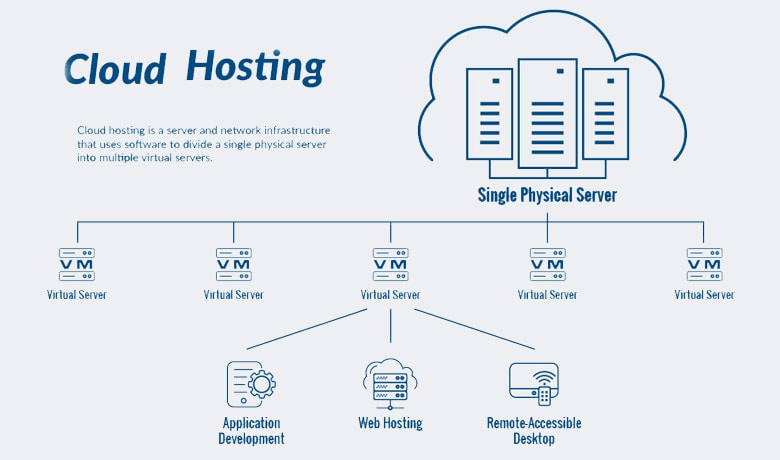 Cloud hosting comes with a various server and each server has different responsibilities. If one of them has a problem then other servers take responsibilities.
That's why cloud hosting is an alternative to traditional web hosting services. With cloud hosting, you will get higher uptime and the most important feature is, it provides scalability.
Who is Cloud Hosting For?
Cloud hosting will be a great option for large and medium-size websites that are highly growing.
If the website has more than 50,000 monthly traffic then you can consider a cloud hosting plan. It is an alternative option for VPS hosting.
Cloud hosting pros:
High security.
On-demand scalable resources.
Less downtime.
Cloud hosting cons:
Pricing not fixed.
With traffic, cost can increase
5. VPS Hosting For a Rapidly growing business
Virtual Private Server is one step above shared web hosting. In this type of hosting. The website still shares a single server with other websites but the number of sharing websites is significantly low.
In this hosting, a single server is divided into multiple servers and these servers can be customized by individual websites.
Even your main server is also shared with other sites. With VPS hosting your website can have dedicated resources.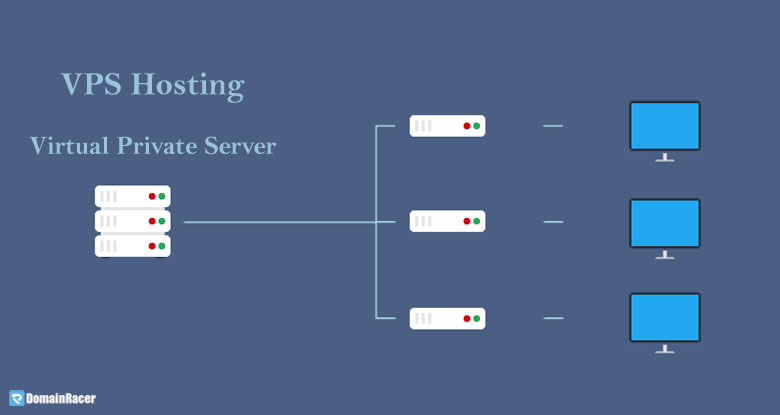 In this hosting no need to share any resources so our website will perform better than shared hosting services and also benefit faster loading times and high uptime.
Some websites do not need a dedicated server but using VPS hosting can get the benefit of dedicated hosting. And no need to worry about other websites causing your website crash.
Who is VPS Hosting For?
VPS hosting is the best choice for small and medium-sized businesses. It is also a great option for growing businesses that can't afford downtime to the website.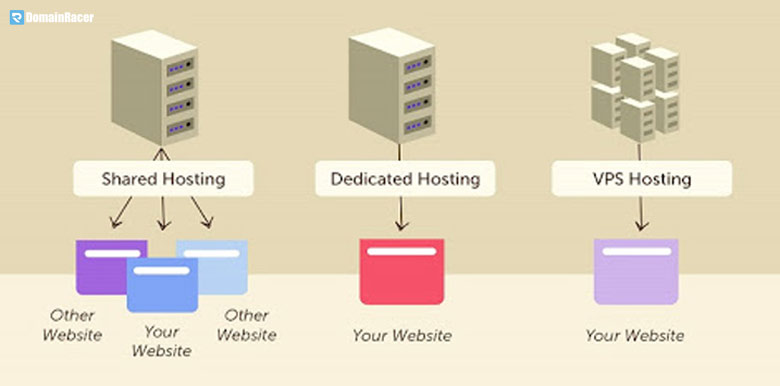 A website that has a large file size, images, videos should consider VPS.
VPS hosting pros:
Cost-effective than dedicated server.
Dedicated server resources.
Can make custom configurations for servers.
Higher uptime and fast loading speeds.
VPS hosting cons:
The main server is shared with other websites.
Set-up is not as easy as compared to shared hosting.
6. Dedicated Hosting – For high traffic website
In this type of web hosting, you have a dedicated server that belongs to only you.
It is the most expensive and topmost server in the line of web hosting with added benefits.
Here you don't need to share any resources with other websites, that's why your website will give high performance. You can check the affordable lms costs comparison here with best hosting provider.
Websites that are hosted on a dedicated server have total control over the server settings such as configuration, software, or other settings that you need.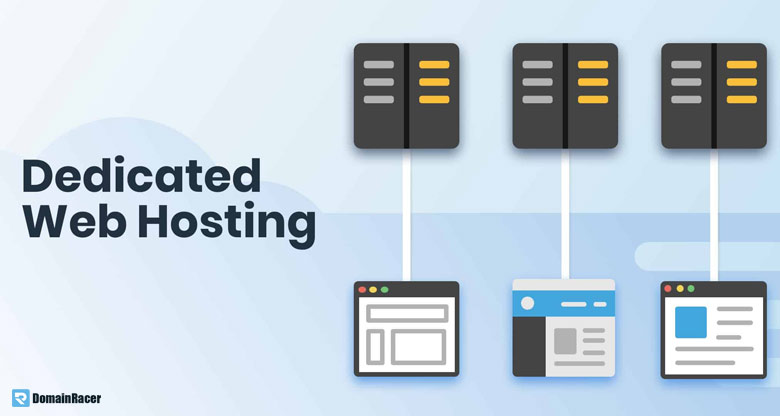 With a dedicated web hosting server, you will get high uptime with fast loading speeds. No need to worry about others website traffic will impact on your website performance.
Who is Dedicated Hosting For?
Dedicated server hosting is generally reserved for high volume traffic such as e-commerce and enterprise-level websites. It is usually intended for a high volume of website traffic.
A large volume website also considers dedicated hosting because they have total control over the server function.
You should consider a dedicated server if you are getting more than 100,000 monthly visitors.
When you need the highest level of security on a medical or financial website then you can also get benefit from dedicated hosting.
Generally, there are two types of dedicated hosting available that are managed and unmanaged hosting.
When hosting providers manage your server then you don't need to do anything, but when you are managing your server's own then you are responsible for monitoring everything.
A dedicated server is very costly so only consider if you can afford it.
Dedicated hosting pros:
Full control over the server.
No sharing resources with other websites
High security.
Fast load times with high uptimes.
Dedicated hosting cons:
Most expensive web hosting services.
Need for technical knowledge.
What is the Best Hosting Type For Your Website?
This answer to this question is not the same for everyone. It depends on various factors such as the type of website you have, your budget, the resources you need, website traffic, etc.
Once you have decided what type of web hosting is the best option for you then you can look for a web hosting provider and plan.
For the best web hosting services I will recommend you to go with DomainRacer, which is the best web hosting provider for all web hosting services with affordable costing.
By reading this post you can easily figure out the best web hosting option for you.
Types of hosting you need for:
Shared Hosting — Most cost-effective plans for small website
Dedicated Hosting — For high volume website.
VPS Hosting — For growing websites
WordPress Hosting — Optimized for WordPress sites.
Cloud Hosting — Best for websites that are growing rapidly.
Reseller Hosting — For agencies, web developers, and web designers.