The hosting provider manages your server, software, and keeps hardware maintenance with security and takes care of data backup services.
Managed web hosting is a service where your web hosting provider leases you a dedicated server and that server is managed by themselves.
While you don't have to worry about the back-end and can solely focus on the front end or the software side of the business. They set up all operations and take care of day-to-day operations 24/7.
Types of managed hosting:
There are mainly two kinds of web hosting services:
Fully managed hosting/Enterprise Hosting –
This is the type in which all the hardware, dedicated servers are managed by the service provider and the user who has opted for this hosting needs not to worry about any hardware related stuff.
Semi managed hosting/Co-managed hosting –
This name suggests, requires both service provider as well as the client to maintain the servers, sometimes there are some services which only client or the developer understands and they don't want anyone peeking inside their technology ao then this comes in handy.
Pro's of managed hosting:
Now let's discuss some advantages you have when you order managed hosting
1. Already trained expert staff available –
This is a great plus as you do not need to hire new personnel in your team and then train them for networking and server-related settings. It's already taken care of, you just have to deploy your service there and the team from a managed host will do the rest.
2. Provide high Security –
Security is the worst nightmare of this industry and you have to be on the edge of every technology to make your product secure, requiring a new team of cybersecurity but in a managed host, it's already there.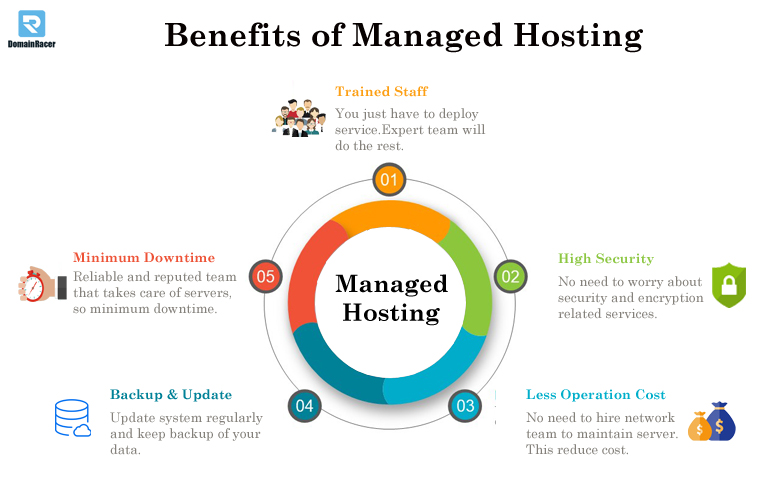 You don't have to worry about the encryption and all that kind of security services, they provide all these services to keep your site secured 24/7
3. Less operation costs –
This also reduces your operating costs as you do not have to hire a specific networking team to maintain the server
4. Backup and update –
Managed hosting service providers are available 24/7. They automatically update your system regularly and also keep a backup for your data. The old days are gone, when you had to carry all these cards and floppies and disks to store your data and keep a backup as well
5. Minimum downtime –
The web hosting provider has a reliable and reputed team that takes care of your servers so there is no to minimize downtime in case of any mishap.
6. Cost-Effective –
Well, the cost is the main concern when considering this kind of service but just think of it as when you have a networking team working on your servers.
That would cost around tens of thousands of $ but here in contrast to that analogy we only have to pay somewhat in hundreds of $, this is cost-effective.
Con's of Managed Hosting:
With all said, now we can discuss some of the drawbacks of this service like:
1. Less flexible –
Owing to its nature, it is not flexible for every customer. The infrastructure is not for everyone.
2. Less control –
You cannot control every aspect of your service when someone else is maintaining your product. Still, these can be tailored as per your requirements on a higher-priced package.
Easy to Host Ecommerce Site With Managed Hosting:
Most of the e-commerce sites are run by a single person or a team and when people talk about sites they see it as an easy job with all things. They don't realize that the site has been maintained by some experts.
So managed hosting comes in handy for such a kind of team where the core team only knows about the user side of the site. While rest including servers, backups, security, firewalls is all maintained by experts who are 24/7 working.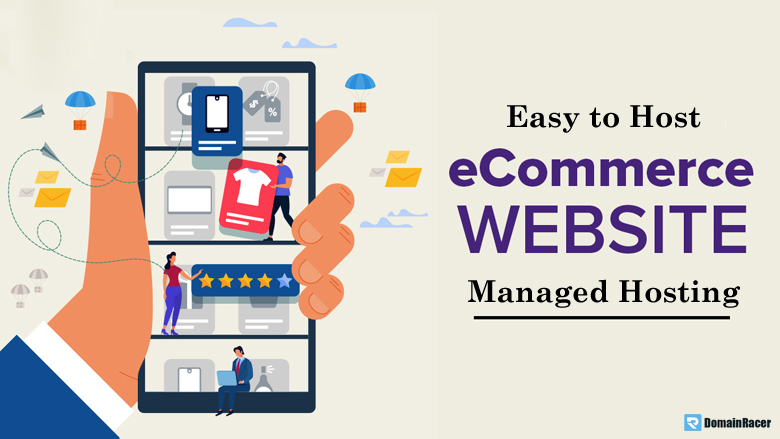 WordPress is the ultimate e-commerce CMS, used by 70% of the websites.
If you own an e-commerce store and you have a team of developers then you can hire services from any managed hosting.
Managed WordPress hosting is a good idea that will help your business to stay updated as well as secure. In this way, you only have to focus on the strategies of your store's user-friendliness.
Is Managed Hosting Secure?
Managed hosting service providers offer security and handle the customer's sensitive information.
Manage hosting companies manage the antivirus, firewall, and network security. They also ensure that only authorized persons can access sensitive data.
In Short:
Managed hosting service allows you to select what you want. The other web hosting services may not allow you to choose services across your entire IT environment.
However, a Managed Hosting solution can manage the services to fit your specific IT and business requirements, you no need to worry about manage service by own.