SSDs (Solid State Drives) is a modern advanced storage device used to store data on the machine. It uses flash memory which replaces the regular mechanical hard disks storage drive.
Traditional storage devices run slow that effect on your computer and make it slower.
The speed of SSD drive is 300% faster than HDD drive. It does not have any moving parts like HDD drive.
In the absence of the requirement for a power source, the cheap is used to store data. SSD hosting has more advantages than traditional hosting. Nowadays there are most of the businesses using SSD storage.
Table of Content:
What Is SSD Technology?
This storage device utilizes flash memory to quickly access data. Without the use of a power source, the cheap is used to store information.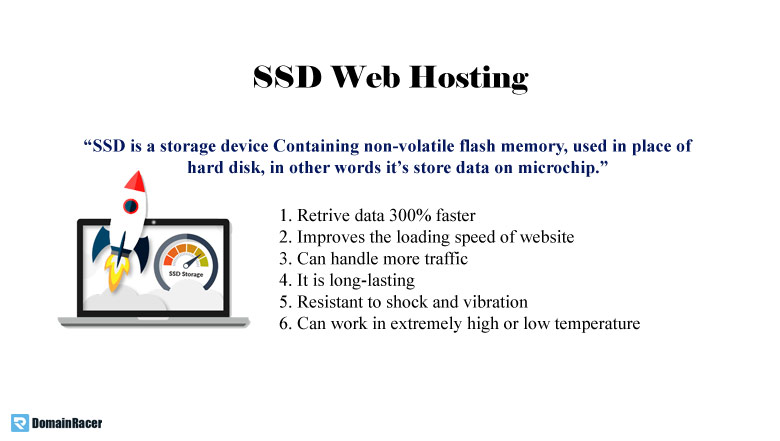 SSD has an attractive storage option and many more including:
Low power consumption – SSD uses flash memory and it requires few energy resources. It has a very simple construction and does not have any moving parts. That makes the SSD storage device as long-lasting.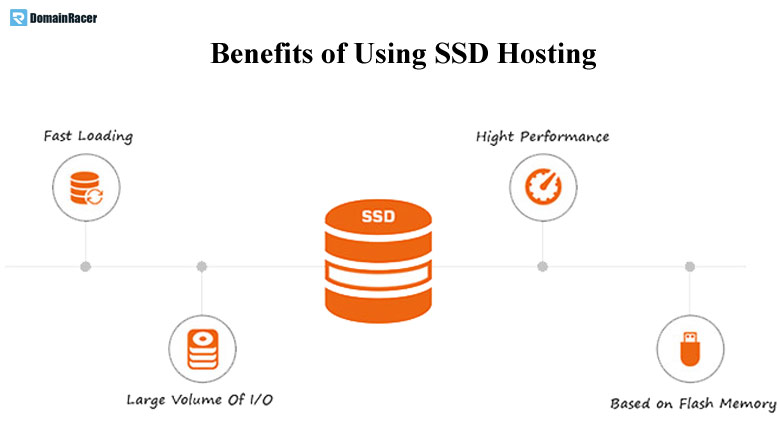 Small sizes –

The compact construction of SSD drive, making it easy to store and carry.

Long-Lasting – 

SSD hosting does not contain any moving part, so very less risk of failure.
Benefits of Using SSD Hosting:
SSD hosting gives you amazing features, as compared to HDD hosting.
1. Faster Page Load Speed:
The well-known and most important advantage of SSD web hosting is its speed. The speed of SSD drive is more than any other storage drive. 
The faster speed of the SSD storage device also ensures the speed of the website. business websites having more traffic and it needs to be load fast.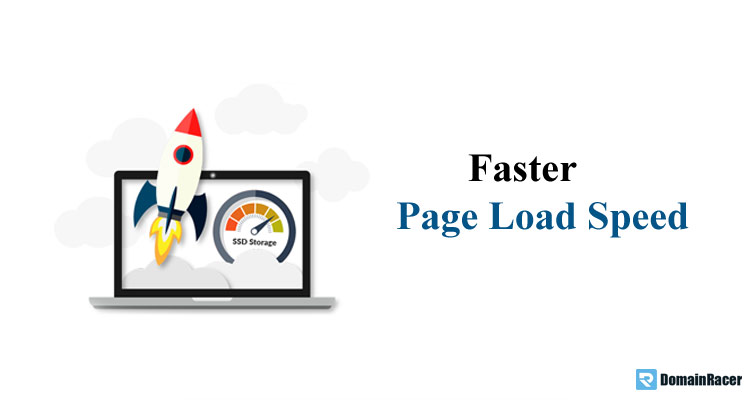 The speed of the website is Google's ranking factor. So it will be beneficial for the website as it having faster loading speed. 
It will also help to improve the ranking of the website on a search engine.  
2. More Reliable Service:
If you have your business website and if it goes down then a small amount of downtime can also reduce sales and loss in revenue.
SSD hosting is more reliable than HDD hosting, that means there are very few chances to get your website down. There are also a few issues related to server performance.
If you want to know the in-depth difference between SSD and HDD hosting then you can read below article:
SSD Hosting Vs HDD Hosting – Common Mistakes Everyone Makes
SSD hosting ensures that your site is supported by the latest and greatest industry-standard technology.
3. Enhanced Website Security:
SSD hosting provides amazing security features to secure your website data.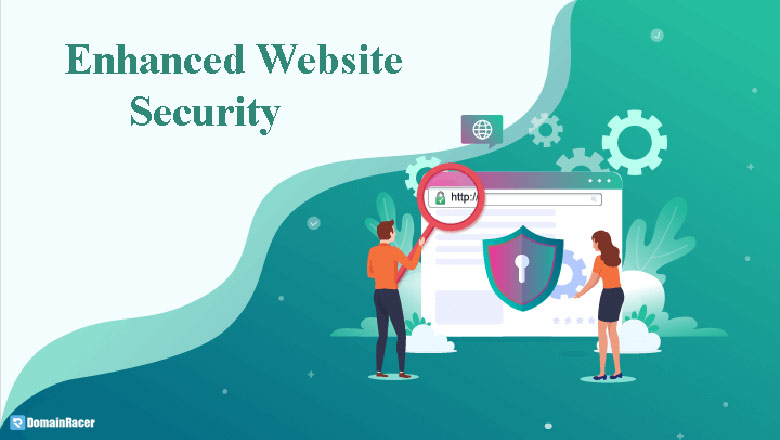 The common features include in SSD hosting is DDoS protection, firewall protection, and SSL certificate.
So when you are buying SSD hosting for any type of website then you no need to worry because you are protected with security protocols and resources.
4. Most Cost-Effective Options:
If you have a small size of business then initially you will not need more resources. Generally shared hosting is used to host a large number of websites.
The SSD shared hosting plans depend on your website requirement and it ranges from low to high.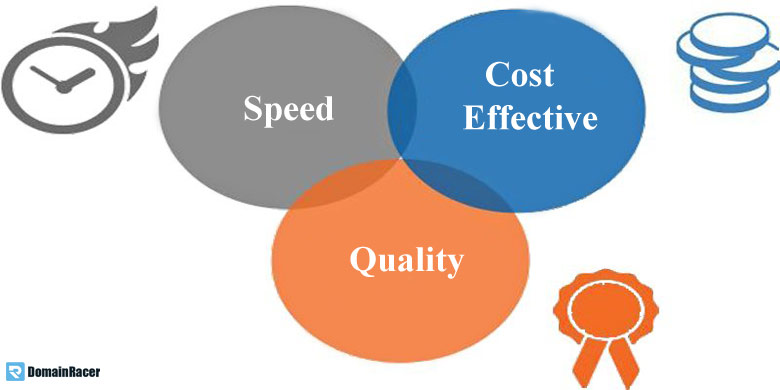 If you are looking for the best SSD hosting plan with affordable costing then go with DomainRacer. They provide unlimited SSD storage and many more features at a low cost.
5. Long-Lasting and Highly Efficient:
The other advantage of SSD hosting is the long-lasting and durability of SSD storage drive.
SSD storage devices has not contained any moving parts, so there is a very low risk of mechanical failure also gives high efficiency.
6. Boost Performance Using SSD:
Some websites need higher loading speed to load a webpage. With the high speed, you can reduce the database request.
This mechanism will also help in increasing the performance of the website and reduce the page loading time.
Best SSD Hosting provider:
If you are looking for the best SSD hosting providers then go with DomainRacer. They provide unlimited SSD hosting with affordable costing.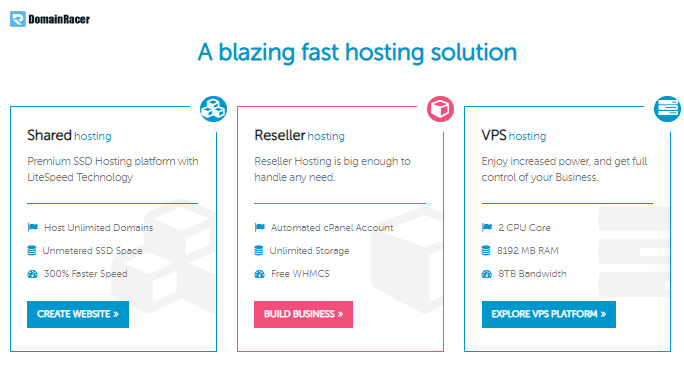 The other feature includes with SSD hosting is:
21x faster LiteSpeed Cache Technology – 21x faster blazing lightning faster LiteSpeed Cache Technology (boost website speed) and reduce the page load times
Unlimited SSD Storage and Bandwidth – DomainRacer offers unmetered pure SSD disk space hosting for storing your valuable data and safety of your data.
Free SSL Certificate – DomainRacer offers free Let's Encrypt SSL or Comodo certificate which allows secure connections from a web server to a website browser. DmainRacer cPanel provides SSL is by default Comodo/AutoSSL technology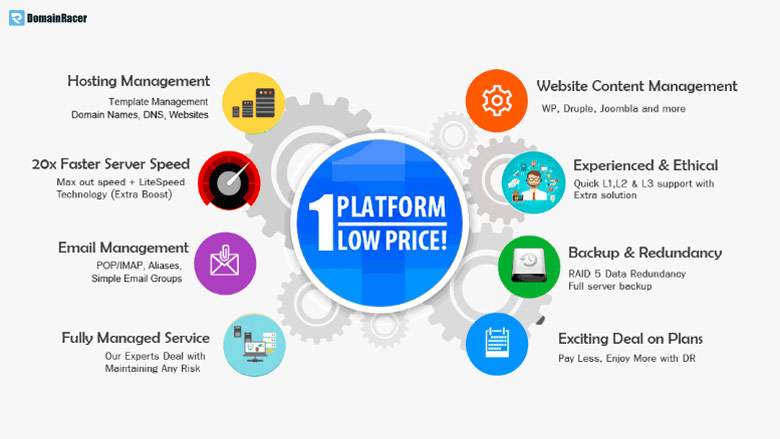 CloudLinux Infrastructure/Platform – DomainRacer CloudLinux platform is a reliable and scalable experience to better high performance of resources allocated in your hosting services.
Highest Security Performance – The ModSecurity, PYXSoft, DDoS Protection, Email Spam Protection and Firewall are top security tools are always ready to secure your website data and avoid data loss.
99.9% uptime server guarantee – DomainRacer offers 99.9% uptime policy with UK, USA, Germany and Singapore based server performance.
FAQ About SSD Hosting:
Why do people prefer SSD for web hosting?
The server gives more benefits by using SSD drive. It is not only faster than HDD but also consumes less power and long-lasting.
Some users still used HDD drive. The reason behind that low costing and high capacity.
You will obtain the FREE LiteSpeed Cache Technology with DomainRacer's unlimited SSD hosting plans.
What are the alternatives to SSD Drive?
There are two alternatives to SSD drives that are HDD and SSHD.
HDD drives have low speed, more power consumption, and are less durable. But still, some users due to its low cost and store a large amount of data.
SSHD is the composition of both drives. It is used to enhance performance and speed and suitable for desktop and laptops. But not efficient for web hosting services.
Conclusion:
Once you have decided to build a website then you will need web hosting services.
For web hosting services you should select web hosting providers that provide quality and reliable services with affordable costing.
Before going to select web hosting services you should check what benefits they are providing.