If you are looking for a popular expired domain checker here is the place you can get what you want. Expired domains are an important one for backlinks.
Expired domains are nothing but the dropped domains which are not useful for their owners anymore so they place their domain for auction or you can get it from different crawlers. Not only one you have to look out for more deleted or dropped domains to from your private blog network.
Private Blog Network is a network of these expired domains which provides high authority backlinks to your sites. Which causes your money site to rank in Google search engine.
Craft here a list of 9+ top expired domain finder. Detect high authority expired domain to build a creative website. If you already have a successful web hosting business then you can expand your business with a cheap cPanel reseller hosting deal.
To make your site popular you have to first choose expired domain names with high authority backlinks. This authority measures in different metrics such as,
Domain Authority by Moz.com (20+)
Page Authority by Moz.com (18+)
Traffic Flow by Majestic.com (15+)
Citation Flow by Majestic.com (15+)
In today's marketplace, there are lots of service provider which helps you to crawl quality expired domains. Also, gives the opportunity to brokers to sell their domains on a different platform. Some of the providers are listed below.
It's professional software to check expired domains. It lists quality expired domains with high targeted traffic and PR. You can just download it now and try it for the given time period.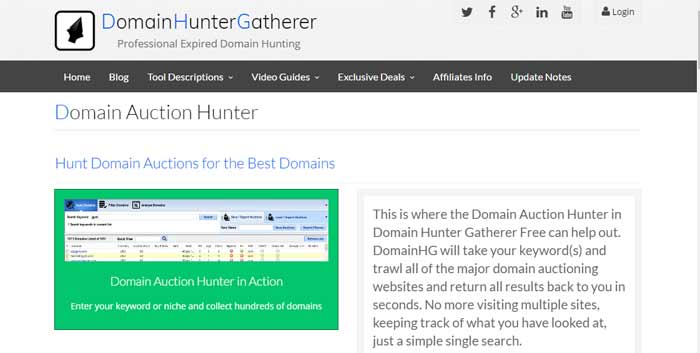 It has many exciting features listed below:
Expired web 2.0 Finder search for expired web 2.0 domains.
It provides a user guide for each activity via eBooks and tutorials.
Allows convenient setup as per your requirements.
Integration with third party APIS for domain Metrics.
A portable version that needs no installation.
It provides a recovery.
DHG available only for windows, no web or Mac version is available. Also, you need to buy proxies for this software. For new host's it's a cheap expired domain analyzer. Learn more about online courses with the best self hosted LMS video hosting here.
DomCop has reasonable cost plans and gives the best services than another tool available in the market.
DomCop has many metrics for filtering expired domain names like Majestic TF and CF, Moz DA and PA, PageRank, Moz Rank and also Estibot Metrics.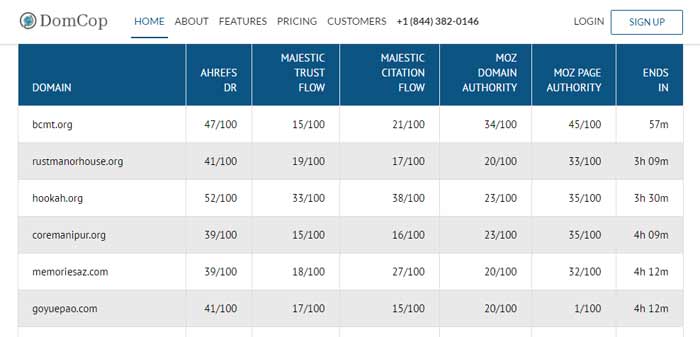 DomCop has more than 20 million domains available in its active database. It supports 50 different extensions. For each job, you can specify 400 websites. Such 4 different daily jobs you can create.
You can use free trial of this software. DomCop has dropping Domains from their search results they don't have any service provider like Godaddy, Namecheap.
On the internet, today's expired domain name search engine is Register Compass. It supports over 6 million domains at any given period. Register Compass does not provide a free trial of the software.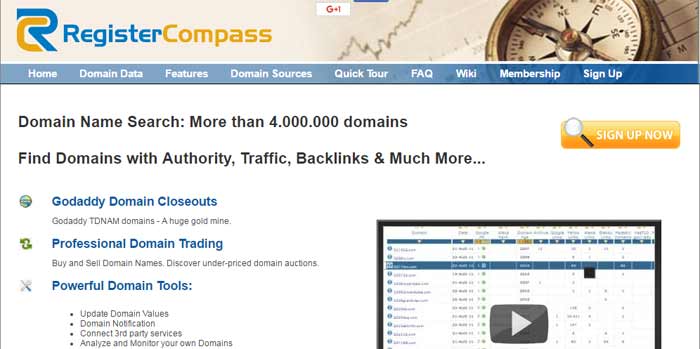 It provides metrics information such as,
Moz Domain and page Authority,
SEMRush Metrics,
MajesticSEo trust flow,
DMOZ listing,
Alexa Rank, Moz rank and google page rank.
Extensions supported are 24.
Register Compass has monthly plans less than DomCop. This expired domain software check tool provides auction on domains to registered clients.
[4 out 9] FreshDrop: Best Way to look out domains
FreshDrop provides easy Interface for customers to crawl any domain. Its appearance makes customers relax to look up lots of domains.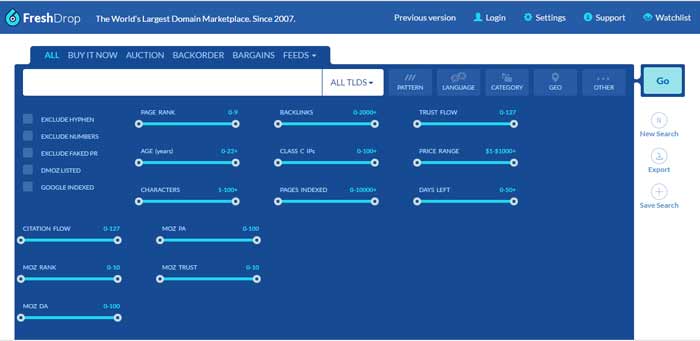 Applying different filters are very easy here. Each domain undergoes through different analysis from Google, Yahoo, Alexa, Quantcast, MajesticSEO, DMOZ, Compete, Overture, Whois, Worldtracker, Archive.org and much more such histories useful for selected domains.
It provides most useful features like domain auction and domain backorder.
You don't need to subscribe here. They support free 7 days trial.
[5 out 9] PBN Lab: An Expired Domain Catcher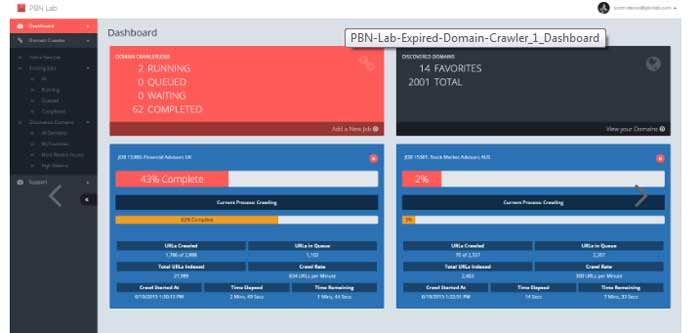 It provides expired domain finder PHP script which gives domains with highly targeted traffic for your money sites backlink.
PBN lab is more suitable to SEO Agencies. You can find relevant domains by using search results Ability to set up a series of searches and then let the system run.
The majestic metrics are found for only some of the sites. No statistical data available for specific crawl websites.
It is fast but not instant. The cost is somewhat high. You can do multiple logins. Many Host asks for Xenu Link Sleuth services over PBN Lab but it Xenu just finds dead links which are the beginning of this process and PBN lab offers more than that.
[6 out 9] Domain Reanimator: Best expired Domain Service Provider
Domain Reanimator is an expired domain bot. By purchasing it you can crawl for the unlimited time period.
It checks expired domains name database and provides you metrics like Moz and Majestic metrics so that you can choose required expired.
It gives the features like:
Wayback Machine Reanimation
Spam Filter, Spam algorithm
Restores Websites from archive.org
Multiple TLDs supported.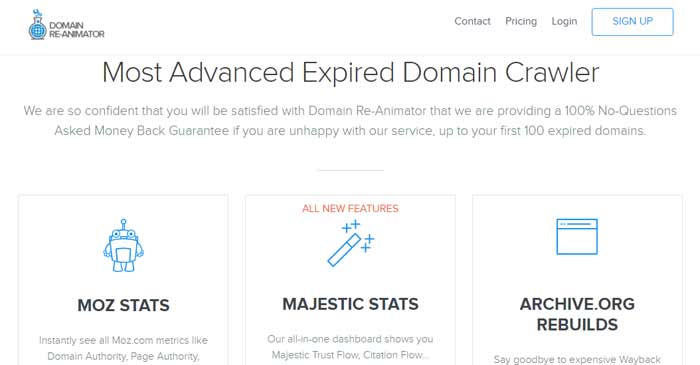 You can use these expired domains for building your own website or building PBN for SEO purpose.  It's having a clean interface. Easy to install and operate, No hardware needed.
SnapaNames.com is considered by many as a one of the top expired domain for sale and platform. SnapNames.com was founded in 2000 and acquired by Oversee.net in 2007.
It records over 10 million domains for auction in its inventory with its history.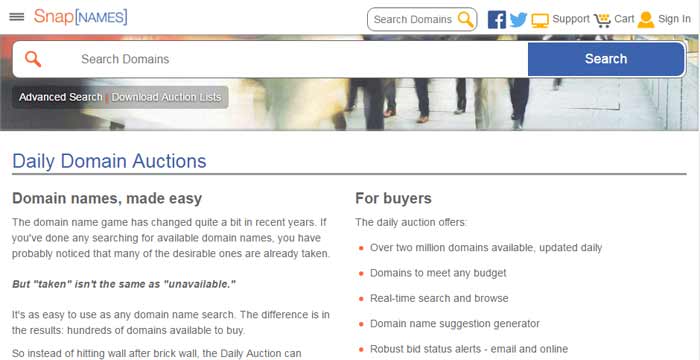 There is no fee for buying domains here. But if you want to sell domains in the auction then you have to pay for it.
SnapName.com has flawless auction system. It is the largest source of finding expired and deleted domains on the internet today and has a very large customer base.
Some of the cons are:
Difficult to manage purchased expired domains.
Selling domains require your domain to be registered with moniker.com.
[8 out 9] Dropping.com: Analyzer for expired domains
Estibot.com, the recognized leader in domain appraisals launched dropping.com.
It provides detailed analytics about daily expiring and auctioning domains. It having over 7 million domain in its directory for auction.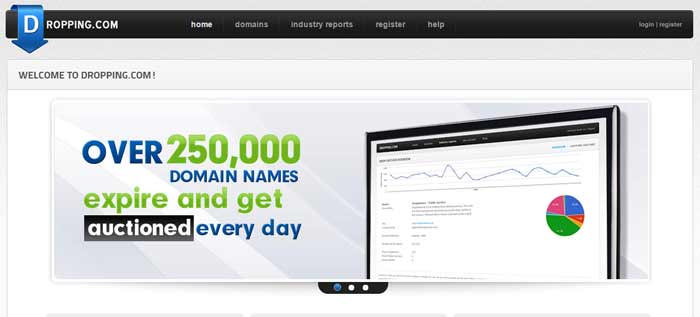 Dropping.com is the only service that provides access to following advanced data sources like, domain backlink report, PR and Wayback crawler, Zone files access, Ownership report, Monitors domain.
Dropping.com have expiring domains from all major registrars, marketplaces and backorder services. You can purchase expired domains and re-register it. It provides cheap domain link records than other providers.
It's a free expired domain search website. It provides different Metrics like Domain authority, page authority by Moz, Traffic flow and citation flow by majestic, Alexa rank page rank etc. to find the expired domain.
ExpiredDomians.net gives recently dropped domains if you want to look up an old domain that expired 2-3 years ago you have to visit another website.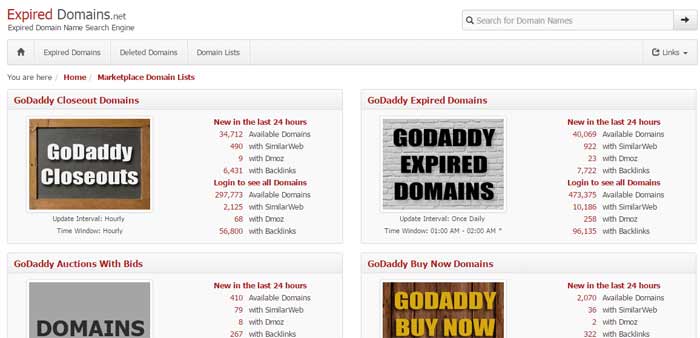 It does not have a function like Domain auction, domain brokerage. It doesn't accept charges from the customer and easy to search hence today most of the users go for it.
Conclusion:
The point is simple you can grab this opportunity to make your private blog network for your money sites today to make your domain brand on the Internet.
If you think about where to find and how to buy expired domains then these sites and software are the best way to do so. You can simply redirect traffic to expired domains on your site.
To do so you have to take care of backlinks which make the strong authority of your site. These backlinks from expired domains are an important one. So go ahead and make use of this article.